Oh, the parts of the marble train have got mixed up. Can you arrange them correctly by turning the parts by clicking on them? Fix It is a funny game for young and old people to train the logic and concentration. There are 3 difficulty levels with many games, from easy to difficult. Do you face the challenge to solve all the levels and bring each marble to the finish? The harder the games are, the more track parts are on the field. Now it's up to you to turn the right parts to get the ball to the finish.

HOW TO PLAY
1.) Create a continuous connection between the marble and the finish.
2.) Rotate each part by tapping it
3.) Click the marble when you have fixed the marble run

🔓You can unlock this free app to play without advertisement.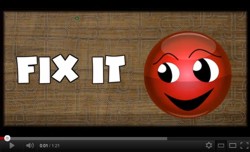 News

Visit us on

News